Since 2019, nursing home chief physician Remi Andersen has used Somnofy to map sleep. In this article, you will gain insight into examples where measuring breathing frequency led to faster treatment.
* All names have been changed with respect to privacy.
Respiratory rate and UTI
Heidi (90 years old) said she felt relaxed. When using Somnofy, doctor Remi was able to monitor her breathing rate, which at that time increased sharply. In 2 days it increased by 35%, from 17 to 23 times per minute. This gave the doctor a basis for conducting a closer examination, which showed that she had symptoms of urinary tract infection (UTI).
Remi then started antibiotic treatment, and within 3 days the breathing rate was normalized. With the help of Somnofy, he was able to continuously monitor her respiration. This meant that UTI was detected one day earlier than normal, which saved her from further pain.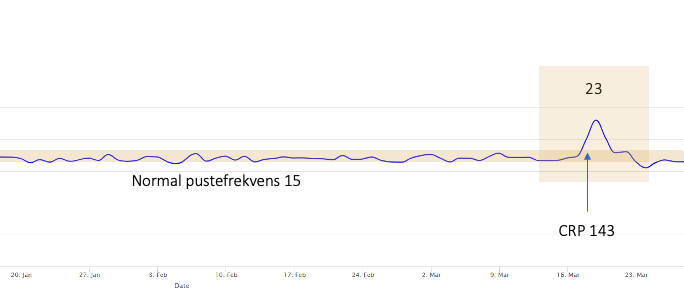 Respiratory rate as a pain expression for dementia
The picture shows the breathing rate of Kåre (80 years old) who turns out to be anxious and restless. Remi discovered an increased frequency of breathing, where the patient told about non-specific pain. This provided a basis for examination, which showed that the person had constipation.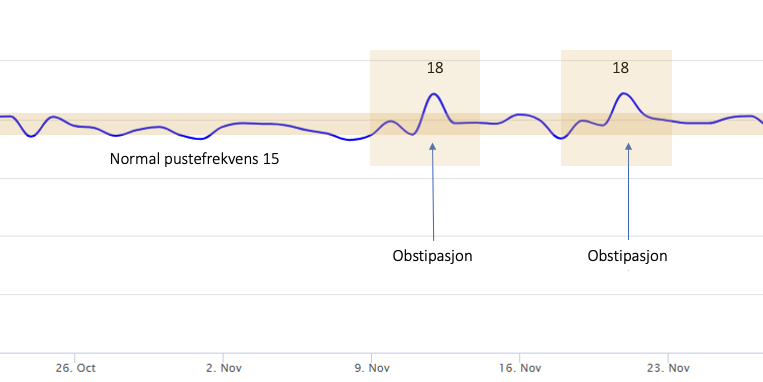 Respiratory rate and Covid-19
Grethe (91 years old) was diagnosed with Covid-19, but had no observed symptoms at present. When the PCR test failed, the breathing rate also increased on the same day. The frequency increased 46%, from 13 to 19 times per minute during 3 days. She had a fever on day 5, but her breathing rate returned to normal the following night.
Within 6 days, the frequency was normalized after detection of infection. Here we see that she had increased breathing frequency several days before other symptoms of Covid-19 appeared.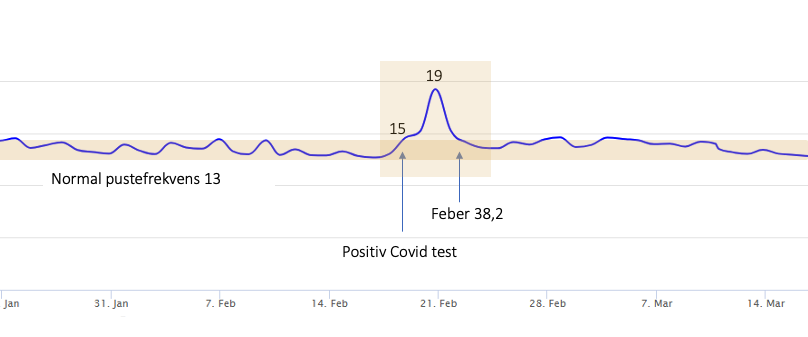 COPD patient receives Covid-19 and increased respiratory rate
Like Grethe (91 years old), this COPD patient had no observed symptoms of Covid-19, but still received a positive PCR test. The patient was gradually improving, but after being diagnosed with the infection, he or she experienced an abrupt worsening. The day after positive PCR, the respiration rate increased 21%, from 19 to 23 times per minute.
The infection affected the patient's respiration, which led to a need for increased oxygen (1L). 4 days after detection of infection and oxygen treatment, the respiratory rate was normalized.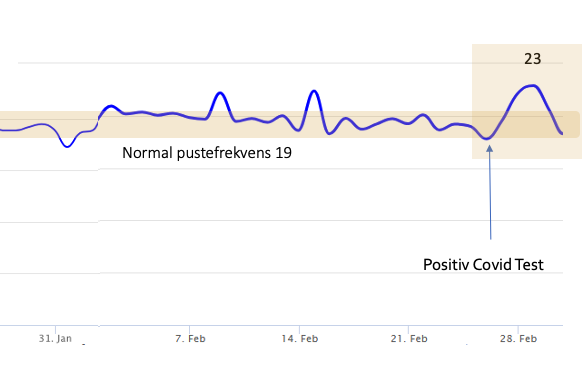 Summariz(z)ed
We can see from the examples that the respiration rate (also called respiration rate) is often at the forefront of disease development. Today, measuring respiratory rate is the most precise parameter to get ahead of disease exacerbation. Respiratory rate is often the most important parameter to:
Capture serious illnesses
Capture deterioration in need of more health care
Capture development towards cardiac arrest
Prevent escalation of disease
Doctor in specialization anesthesia, Ole Kristian Forstrønen Thu, says it quite simply in one of our webinars:
Ole Kristian Forstrønen Thu, Doctor specializing in anesthesia

"Respiration rate is a fire alarm. Changes in respiratory rate often precede illness, while other parameters often change as a result of illness. "
* Somnofy is not medically approved. The sleep monitor is therefore not intended to diagnose, treat or prevent disease. Somnofy does not deliver alarms on breathing rate, oxygen saturation and heart rate. The doctor is responsible for the patient and its diagnostics.